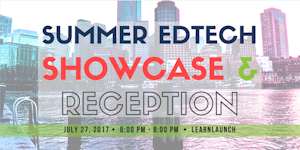 Come celebrate Choosito's success and advancement with us tonight at the EdTech Showcase &Reception!
Choosito @ the EdTech Showcase
4pm, Thursday 27 July 2017.
281 Summer St, Boston
ABOUT THE EDTECH SHOWCASE:
We are pleased to announce that Choosito will be a featured company today during the LearnLaunch Summer EdTech Showcase. As a presenter, Choosito will pitch, demo, receive feedback, and network with other innovators in the Boston edtech community. Attendees will include members and mentors of the LearnLaunch programs, edtech innovators, forward-looking educators, and attendees from the Building Learning Communities Conference.
Tickets available here.